Do you want to learn how to make eyelash growth serum with essential oils?
Every one of us has been sold on insane "magical oils" that will grow our lashes like luscious forests in days. But after all that money and effort, it's always super disappointing to see the lack of results.
No need to worry, though; you can create your very own! At first, this might sound like a massive science experiment, but it's not! 
It's not as complicated as you might think, and it only requires a few ingredients, and it will get right to work immediately! This blog post will show you how to make your eyelash growth serum with just a few drops of oil. Keep reading to learn more!
Here's How to Make Eyelash Growth Serum With Essential Oils?
You will need:
Castor Oil: This natural oil has been used for centuries to promote hair growth and prevent shedding. It's rich in Vitamin E, which helps protect the skin from environmental damage while insiders provide nourishment with their nutrients!
Lavender Oil: Lavender essential oil has been used for centuries in aromatherapy, and it's still popular today. It blends well with many different scents to create a soothing aroma that can help you feel at peace no matter what life throws your way!
Cedarwood Oil: The refreshing and uplifting scent of cedarwood essential oil is a great way to get in touch with your senses. It's a calming oil that's great for the skin, hair, and mind! 
Rosemary Oil: With the rise in popularity of natural beauty products, there are more and better options for lashes. One such option is rosemary essential oil which has been shown to add length and make your eyes look larger with every application! 
Empty Mascara Tube: You will also need a container to put the serum in. The best thing to put it in would be an empty mascara tube that can easily be found online. However, if you want to make your beauty routine more environmentally friendly, use an empty mascara tube rather than buying new ones.
It's a simple way to cut down on plastic waste and save money! If you don't want to go for either of these options, you could also keep it in an older container or any shape and dunk a spare spool to use the serum wherever you want! 
How to Make Eyelash Growth Serum With Essential Oils: Putting It All Together

 
Take your container of choice. Make sure it's spotless. Then, take your castor oil and fill the tube 3/4th way. To make your eyelash growth serum more intense, add 3-4 drops of Lavender essential oil, three drops of cedarwood essence, and one drop of rosemary oil. 
It's okay if the measurements aren't exactly how we've outlined. The most important part is that you should have as much castor oil as possible in the whole serum because that's an essential part of the entire thing. Castor oil is the main key ingredient that will make your lashes longer.
The other ingredients can be tweaked as you see fit. If you're not that into rosemary or cedarwood, you can add less of them or skip them altogether to create an eyelash growth serum that will work the best for you! 
One important thing to note here is that you need to ensure that you're not rubbing the serum inside your eyes no matter what. This serum is for your eyelashes, not for the eyes themselves, and may irritate them. If that happens, remember to make sure that you rinse your eyes out with water immediately after. 
Castor Oil happens to be on the thicker side, so it might not be that easy to wipe it away. If you accidentally get a lot of it in your eye and can't seem to get rid of it, you can also go at it with a gentle cleanser and wash it away that way. Either way, the key here is to get it out of the eye! 
How to Use DIY Eyelash Growth Serum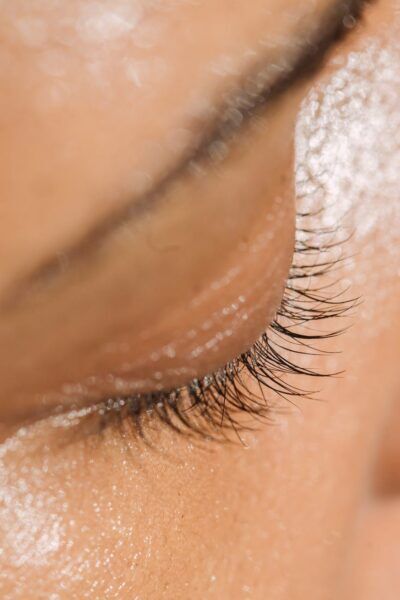 Eyelash growth serum is very easy to use. You can easily incorporate it into your daily skincare routine without a problem! Remember, this serum counts as skincare, not makeup, so don't try to layer it on top of makeup. Make sure that you're using it when your eyelashes aren't coated in layers of mascara, or the serum won't be able to make it through to the actual lashes. 
So the first step here is to make sure your lashes are fully clean and free of makeup. To do this, use micellar water or a makeup wipe, but afterward, wash your face and pat dry so there's no residue of makeup that could get in the way of the serum.
Coat the lashes evenly, both the top and bottom ones, to ensure that each lash is getting an appropriate amount of coating. All of them will get an even growth boost this way, and you won't have to deal with random lashes being too short or falling out if they're not as strong as all the other ones. 
We recommend applying an eyelash growth serum at bedtime following your nightly skincare routine so that it can soak in all through the night, and you can get all the benefits of the growth serum! 
Rinse. Lash. Repeat
Now that you know how to make an eyelash growth serum with essential oils and know exactly how you need to use it, all that's left to do is get to it! Use the serum every night and let it soak the lashes and provide them with all the nutrition!
That is a serum that works for almost everyone, but it will not be a magical overnight fix. You're going to have to be super patient with it. Use it regularly, and before you know it, you'll wonder how your lashes got as massive as they did. All without having to get a store-bought lash growth product. Great lashes from the comfort of your home!