If your walk-behind or riding mower has served you well in the past but needs to be replaced, it's time to upgrade. We shouldn't be surprised by this, given that everything in the universe has a finite life expectancy. 
That being said, what are your plans for the old machine? It all depends on the state of the machine. Let's take a look at some of the finest ways to get rid of an old lawnmower. 
There is no purpose in having broken equipment in your yard. For so many years, it was a great addition to your garden, but all good things come to an end. Your job now is to offer the mower an appropriate farewell. You don't always have to buy a new lawnmower only when your current one has broken down or stopped working entirely. 
It's likely that a quiet battery-operated lawnmower or a highly effective and powerful gas lawnmower is a better choice for you. In any case, older versions produce a lot of pollution and make a lot of noise. As a result, it's always a good idea to get a new one. 
You could also consider getting rid of a lawnmower because you have hired specialists to take care of your grass. To put it simply, there are several reasons why you would wish to get rid of an old lawnmower. 
However, for a variety of reasons, it cannot be thrown away in a regular trash can. It's too big to go in a public trash can. In addition, oil and gasoline residue can pose a serious health hazard to the general public. In the event that you need to get rid of your old lawnmower, there are several options.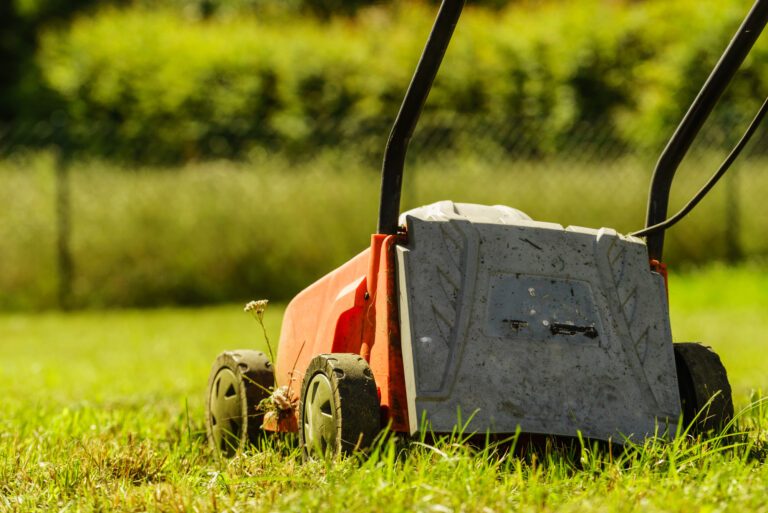 Sell it in Parts or as a Complete Unit
If your mower's engine is still running, but the frame is corroded, consider selling the parts. Listing it as a whole or as individual pieces is up to you. Because buying a new machine is more expensive, do-it-yourselfers constantly hunt for secondhand components.
To sell a lawnmower or its parts, you can advertise in local newspapers, internet classifieds, and Amazon. You could also sell your stuff on sites like Carousell, LetGo, Facebook Marketplace, and OfferUp.
Mowers can be listed on Craigslist and other similar sites. When listing any of the components, be sure to include the model, deck width, and engine size in the description. One last thing to keep in mind is to take and upload some high-quality photos.
Consider Donating Your Old Mower
Donate the mower to a nonprofit organization if it is in working order. To raise money for their initiatives, several of these organizations accept functional lawnmowers and sell them off.
When donating a lawnmower, make sure it's in working order and thoroughly cleaned. Empty any gasoline from the mower before donating it, as it may sit idle for several weeks before being used again, causing the start-up time to be prolonged.
Hand It Down to Someone Who Might Need it
Does someone in your circle have a pressing need for a lawnmower but lack the financial resources to purchase one?
Transferring the mower from your home to theirs is a fantastic choice in that case. If you aren't acquainted with any of the property owners, ask around within your social circle to see if anyone knows someone in need of a mower.
Scrap It for Some Easy Money
If you're short on time, how do you get rid of your lawnmower? Alternatively, if you'd rather not deal with the technical aspects, you could attempt selling the mower to a junkyard. Due to the fact that it is metal, you will receive a price based on that.
You may not get a reasonable amount, which may be significantly less than your investment. Aluminum is more valuable than stainless steel when it comes to resale. So, how much you get back depends on the quality of your mower's construction. Drain the mower's gasoline before discarding it at a junkyard.
Can a Mower be recycled?
Because lawnmowers are constructed of metal and plastic, recycling them is possible. In addition to a lawnmower, you could also recycle a leaf blower, trimmer, wheelbarrow, or chainsaw.
There are several agencies that will come to your home and collect your recyclables. Other businesses may request that you go to a recycling facility.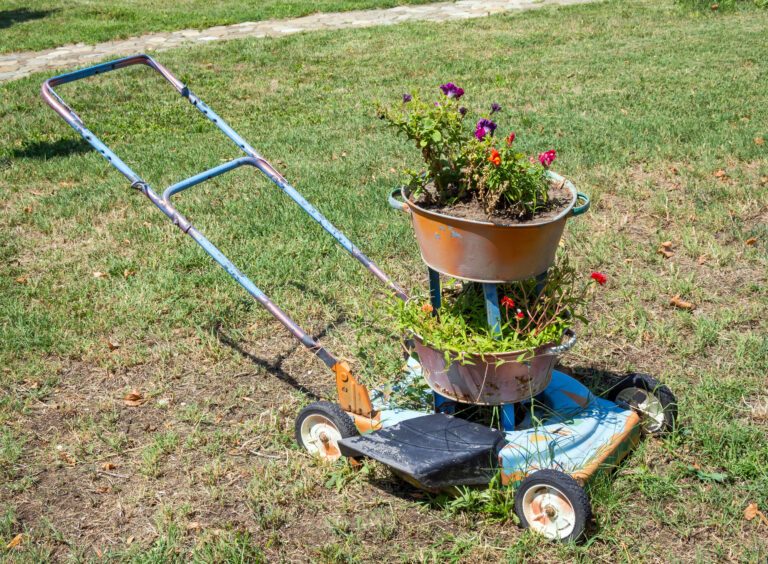 Recycling your lawnmower (or any other power equipment) will cost you money. Investing in a composting system is a wise choice since it keeps waste out of landfills, which are hazardous to soil, plants, and animals.
Mower Disposals and Pickups
When you're always on the go, how do you deal with a broken lawnmower? The best option is to call a garbage removal service or look for a local firm to schedule a collection.
Such firms will take up your lawnmower in an environmentally responsible manner. There is no way you will ever see it again, no matter what the circumstances. Booking a pickup can be done by calling them, or by using an online service. Keep a comprehensive record of the mower or any other waste item you intend to discard.