Mowing the lawn is something that many of us take for granted. We were raised doing it. For people who grew up in an apartment or condo and now own their own property, mowing the grass may be a brand-new experience.
Whether you're a novice or an expert, there's something to be learned about selecting the proper lawnmower. Did you know that reel mowers exist anymore? They still exist for a reel.
There are a number of different lawn mowers accessible, all of which are meant to cut grass effectively. It might be easier to decide on a mower if you categorize them into three categories:
Walk-behind mowers
Riding mowers
Tow-behind mowers
Walk-Behind Mowers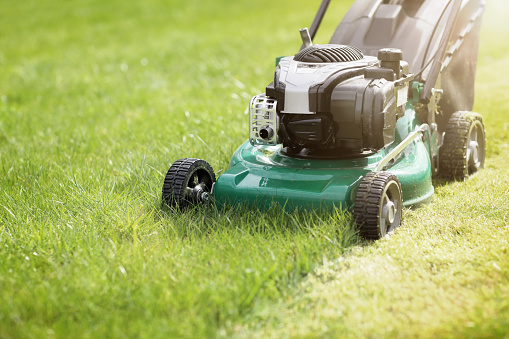 The grass-cutting machine. These are the standard lawnmowers that most of us think about when we imagine Saturdays spent caring for the yard. Walk-behind mowers are available in a number of designs and sizes to suit small to mid-size suburban lawns with an area of 1/2 acres or less:
Reel mowers
Cordless or battery-powered electric mowers
Gas-powered mowers
Walk-behind mowers are not only the most cost-effective and environmentally beneficial lawnmowers available, but they're also one of the most affordable. They're convenient to store since they are little, making them an excellent choice for many people. You'll be able to discover one that appeals to you for whatever reason.
Riding Mowers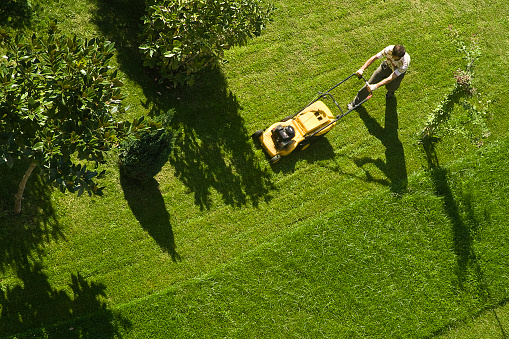 A riding lawnmower is an excellent option for people who own 1/2-3 acres of property, or who want to minimize their time walking and standing. 
The two most common styles of riding mowers are:
Tractors (both for lawn and garden)
Zero-turn mowers
Riding mowers have blades that vary in width from 30 to 66 inches, allowing you to cut a lot of grass in a short amount of time. They are, after all, small cars, so be prepared to perform regular maintenance throughout the year and store some equipment in your garage over the winter. While they don't offer as much power as other types of lawn tractors on the market today, they do provide an adequate amount.
Tow-Behind Mowers
A tow-behind mower is a great partner for your ATV or tractor whether you're mowing fairways on a golf course or taming overgrown brambles in a field.
Towable mowers are available in a wide range of styles:
Trail mowers
Trail cutters
Gang reel mowers
Tow-behind mowers are a favorite among professional landscapers and property owners who already own big pieces of lawn care equipment since they don't propel themselves and must be linked to a riding mower or other vehicle. The tow-behind lawn mower is best for those who have a large amount of tall grass or even little saplings to clear. 
Important Considerations When Purchasing A Lawn Mower
Choosing a lawnmower should be guided by the nature of your yard and what features are most important to you.
Mowers with larger decks cut grass more quickly and easily. The speed and simplicity of riding mowers vary depending on the size of the yard. The width of the cutting region, or deck size, of a lawnmower, determines how quickly it can cut grass.
Consider how much of the yard is uneven, hilly, or disrupted by obstacles such as bushes or garden decor. If you're dealing with a yard that has many tiny obstructions, or if your lawns have narrow walkways, you'll want a smaller mower or a two-step mow plus a push mower or string trimmer to finish the edging.
Consider the characteristics as well. Some riding mowers are more pleasant and less stressful on the joints than others. Some push mowers have a propulsion system, so you'll need to put in less effort pushing and more effort directing the machine. Some mowers have readily accessible blades, the underside of the deck, and the engine, which can come in handy when it's time to clean or maintain.
Lawn Mower Costs
Given the many types and models of lawnmowers available, it's no surprise that their pricing varies greatly. A manual mower can cost as little as $75, while high-end professional-grade models may cost more than a new automobile. Fortunately, the typical homeowner will require a mower that is considerably less expensive.
The most basic push mowers cost between $150 and $300 while riding mowers will set you back between $1,500 and $3,000. Mowers from the same manufacturer will vary significantly in price based on their features, attachments, and quality. The cost of top-line versions could be as much as double those of base models. Some sort of financing is frequently supplied with lawnmowers at the higher end of the price range.
Lawn Mower Accessories
Accessories are available to make lawn care simpler for most lawnmowers. A bagging system is the most popular, which makes collecting grass debris a lot easier. Other items of interest to the user's comfort, such as sunshades for riding mowers that protect from UV radiation, are more popular.
If you want to use an item that needs a specific hitch or connection, look into the one the mower you're considering has. Riding mowers may take on more attachments than light-duty models, with some even performing heavy-duty chores such as snow plowing and tilling.
Lawn Mower Maintenance
Mower blades must be sharpened on a yearly basis, and internal components, as well as decks and frames, should be cleaned at least once a year to prevent clogging. In addition, gas-powered mowers require air filters, spark plugs, and other maintenance procedures associated with gas engines. Cleaning electric mowers are less time-consuming than cleaning gasoline-powered ones.
Both DIY and expert maintenance are available. The majority of lawn mower service shops provide reasonably priced annual upkeep plans. Some even offer services that will pick up and transport your lawnmower, making seasonal care as simple as it gets.
What Are The Different Types Of Lawn Mowers
There are several types of lawnmowers on the market, and some of the most well-known lawnmower models are as follows:
The most common type of lawnmower among people with big yards is a riding lawnmower. People may easily drive around the yard on a riding lawn mower while sitting comfortably on top of it. Some riding lawn mowers include a lap bar to assist in steering rather than a steering wheel.
Push Lawn Mowers
The push lawn mower is the best option. However, keep in mind that pushing lawnmowers need a lot of manual work on your part. The engine-powered riding mowers require considerably less effort than do push lawn mowers to move the equipment over the yard. When it comes to cutting tall and thick grass, you'll need much more energy and momentum to get satisfactory results.
Self-Propelled Lawn Mowers
A riding mower is a type of lawnmower that has been adapted to provide power to the wheels through an electric motor. As a result, it takes less energy from your side to maneuver around the yard. Self-propelled lawn mowers are a great solution for those who don't want to invest money in a complex machine. All you have to do is walk with them around the lawn, and it'll take care of itself pushing and trimming the grass. Self-propelled lawn mowers start at $300 and go up to $800 depending on the model.