Do you want to buy a new set of cooking equipment for your kitchen but aren't sure where to start? Do the many cookware brands leave you bewildered as to how to pick out the most appropriate cookware set for you?
In recent years, a variety of types of cookware sets have emerged, each combining different materials such as stainless steel, cast iron, aluminum, and copper.
So, if you're looking for the best cookware set to maximize your cooking performance and minimize clean-up time, this article will assist you in making an informed decision. You may thank me later!
What Should You Look For When Purchasing Cookwares?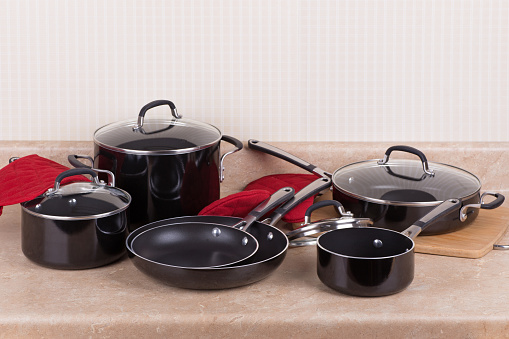 There are a few things to think about when selecting cookware. The following are some examples:
Budget
Let's be honest: a top-chef-quality cookware set might cost as much as a thousand dollars. But there's no need to spend an arm and a leg on pots. The solution to this conundrum is to make a budget and include a few key criteria.
For example, the budget is set at $200, and I'd want the set to be nonstick as well as dishwasher safe. As a result, I'll most likely select the Rachael Ray Hard-Anodized cookware set.
If your budget is tight, you will need considerable flexibility in your selection process. A smaller set or even individual pans may also be the answer to the cost problem if you're a more casual home cook.
Heat Conductivity 
Metals differ in their ability to conduct heat. Copper, for example, is a highly efficient heat conductor, whereas stainless steel is not. This implies that the better your cookware's heat conductivity, the more evenly your food will cook and the faster it will be done. It also implies that copper cookware responds much more quickly to changes in temperature than stainless steel cookware, which means you don't have to wait as long when you turn the heat up or down.
Reactivity 
Metals react with specific foods. Aluminum, for example, has a propensity to react with tomato and other acidic meals. This implies that your meal may absorb some of the metal, so be cautious about your cookware choices and be aware of each product's reactivity.
Durability 
The look and longevity of different types of cookware vary. Stainless steel is considered to be one of the finest when it comes to maintaining its appearance and lasting a long time.
Maintenance 
If you don't want to have to polish your cookware every night just to keep it looking nice, you'll need to consider the amount of maintenance required to maintain it in excellent working order. It's essential to season cast iron cookware before using it for the first time, but not as much as you may believe. It does, however, take more effort than stainless steel to keep it looking brand new.
What Types Of Meals Do You Prepare Often?
As I previously said, it's critical that the set you pick is tailored to your specific culinary demands. Consider the sort of meal you typically prepare for your family when selecting a set. The following are some of the more frequent methods that require particular types of pans and pots:
Soups
In order to make delicious soups that are both healthy and appealing, you'll need a large stockpot for all of the ingredients to cook in the most delicate and nutritious way. A large stockpot like the Cuisinart 766-26 Chef's Classic is ideal—excellent performance with stainless steel cooking surface and aluminum encapsulated base that heats quickly and consistently.
This stockpot not only keeps the nutrients and tastes in nutritional soups cooked for 2 to 3 hours, but it also gives a drip-free pouring option because most of them require slow simmering for two to three hours.
Steaks
There's nothing better than a delicious steak with a golden-brown crust. The Lodge Seasoned Cast Iron Skillet, allows you to easily brown food and achieve restaurant-quality results. This cookware is suitable for use on all burners, from induction to electric or gas, as well as on the grill.
The grill brush is also fantastic on glass top stoves, but you must be cautious not to scratch the surface of your cooktop. The food is served with a soothing fragrance and a bright touch thanks to the cast iron. To cook your steaks, all you need is a tiny bit of cooking oil.
Pancakes And Eggs
Nonstick pans, such as the Green Earth Frying Pan, are simple to use and highly attractive. For some years, they have been popular in several homes.
The beautiful, bright green outside is made using high-quality, non-toxic materials and promotes a pure environment. In no time, you'll be able to make your favorite pancakes in the simplest way possible thanks to the silicone-coated handles.
The pans, which are composed of hard-anodized aluminum and are oven safe to 480F, may be used on all sorts of stoves. These frying pans have a magnetic base that allows them to work on induction stoves as well. It's the ideal cookware for your kitchen if you're looking for crisp golden-brown pancakes and delicious hassle-free fried/scrambled eggs.
Stir-Fry Recipes
The Calphalon Classic Stainless-Steel Cookware Fry Pan is the ideal choice for your kitchen if you enjoy your stir-fry vegetables well done, which not only tastes wonderful but also provides a nutritional dinner.
The fast and consistent heating is due to the stainless steel with an impact-bonded aluminum base and large, flat bottom. The cookware's high-quality long-lasting material makes it oven and broiler safe.
Braised Meats And Stews
If this is the primary sort of meal you prepare, a Dutch oven—ideally enamel porcelain—like the Le Creuset is ideal. You can start on the oven and then transfer it to this slow cooker for hours to finish cooking.
You'll save time because you won't need two pots for the task, and the taste is preserved within the food until it's served. Typically, Dutch ovens are sold separately, but they're required for these recipes.
Conclusion
When purchasing cookware, keep in mind that you'll need the finest cookware set for your situation.
If you have a limited budget and no prior experience in the kitchen, consider hiring experts from a professional kitchen design service. They'll redesign your kitchen according to your personal tastes and needs while still keeping it functional.