In order to keep our kids safe and comfortable, we as parents must be aware of the right baby sleep temperature standards.
Many parents feel that newborns need to be kept extra warm and properly wrapped at all times, although this is rarely the case. In reality, a newborn's chance of SIDS (Sudden Infant Death Syndrome) rises when the temperature rises. For the first six months of life, this risk is most acute, but it gradually diminishes as children get older.
When the weather is making it difficult to maintain a stable temperature for your child, we'll provide some advice on how to keep them comfortable.
Fortunately, there is a temperature range, so you are not required to maintain a specific temperature in your house. While no studies have been done to determine the optimal temperature, most people advocate keeping it between 68- and 72-degrees Fahrenheit, or 20-21 degrees Celsius.
Keep an eye on the temperature of your baby's room with a thermometer if it doesn't have a thermostat installed. In general, newborns and toddlers will be comfortable at temperatures that are similar to those preferred by adults. However, depending on whether they have a tendency to run hot, they may require an additional layer of protection.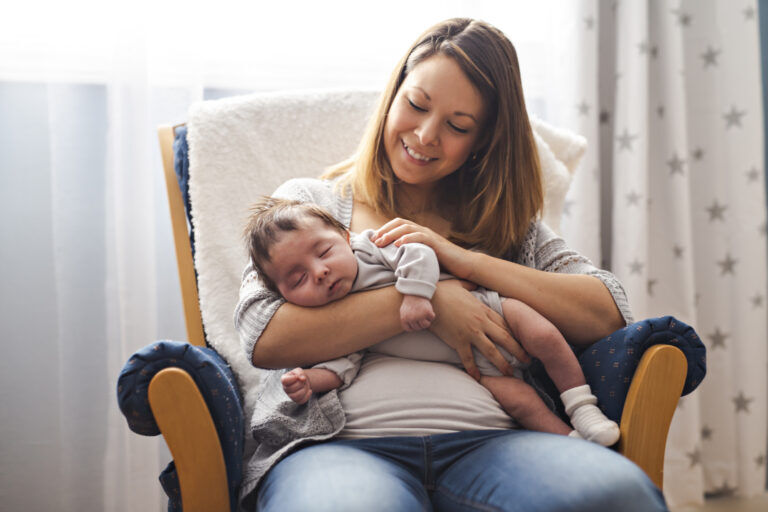 Tips for Keeping Your Baby Comfortable
Keep an Eye Out for Overheating
Initially, a parent's reaction may be to check the temperature of the baby's hands or feet, but this isn't the most realistic way to measure your child's comfort level. Place your hands on their head or tummy instead to see whether they feel warm.
Be on guard for indicators of overheating in a newborn, such as excessive perspiration, flushed cheeks, rashes, moist hair, and quick breathing.
Even when they have eaten and there are no diapers to change, babies may still be cranky. They may just be overheated and in need of a break from the heat.
Refrain from Over-Bundling
A baby burrito is a cute and easy way to carry about your newborn. They must, however, take a breather! Pile upon pile of blankets and pajamas are excessive and raise the risk of SIDS. To keep them warm, go for a thin sleep sack and a thicker one in colder climates.
Reduce the number of layers on your infant if he or she is sick. We advise this because they need to be able to cool down a little rather than boost their body temperature even higher when they're ill.
Keep Cribs Empty and Roomy
The danger of SIDS is highest in the first six months of life, although the American Academy of Pediatrics advises that parents refrain from giving their children cushions, toys, and stuffed animals for at least the first year of their lives after birth. To keep your baby warm throughout the colder months, invest in a higher-toggle sleep sack that's made for lower temperatures.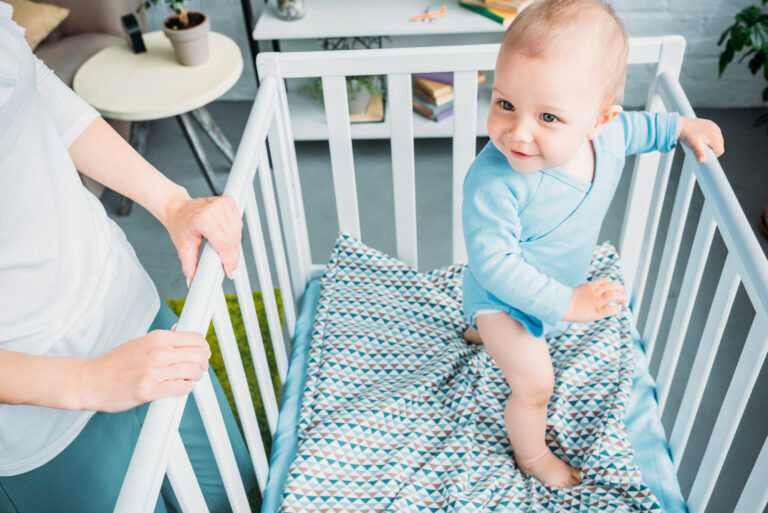 A Fan Is All That's Needed
Despite the fact that a fan won't significantly lower the room's temperature, it does help with oxygen circulation. It can also help to purify the air in the room, which will benefit your child's respiratory system by preventing stagnant air from being re-inhaled.
Your baby should share a room with you throughout the first six months of life, according to the American Academy of Pediatrics (AAP). SIDS is less likely, and you can keep a better eye on your baby's temperature this way as well. This will give you a better indication of how hot or "normal" they sleep.
Consider relocating the crib or bassinet into your bedroom and putting it right next to your bed to make this setup easier.
Back Sleeping
The American Academy of Pediatrics (AAP) recommends that, in order to lessen the risk of sudden infant death syndrome (SIDS) and improve airflow around the baby's face, you should lay your newborn on their back before going to bed. As soon as they are able to roll over onto their stomachs on their own, it is fine to leave them there, but it is still a good idea to place them on their back for the time being.
Checking Temperatures in Babies
If a newborn is too chilly, we haven't yet addressed the issue of how to cool them down.
You may notice that an infant's hands and feet begin to turn a shade of blue when they're feeling chilly. If you see this in children or adults, you should be concerned, but if you see it in a baby, you shouldn't worry.
Your little one's extremities should become healthy again once their body temperature has returned to normal after you've warmed them up a bit.
Dressing newborns in layers is a good idea, but let's not go overboard. It's possible that your infant is overheating if they are sweating, flushed, or have wet hair. In that case, take off a layer or two, and recheck their temperature after a couple of minutes.
If your child is feeling chilly, consider putting on an extra set of clothes or socks. Rather than removing everything and starting over, add layers one at a time and judge your progress as you go.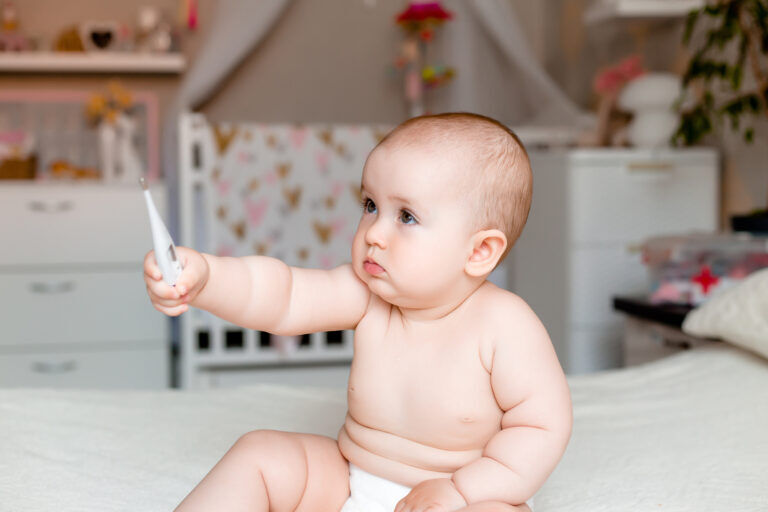 Popular Questions
How should the room temperature be adjusted during the summer?
Using an indoor air conditioner and a thermostat, set the temperature to your preferred level and enjoy the refreshing feeling.
In the absence of direct control over the environment, you'll have to think outside the box. While a fan might provide some relief, you must take precautions not to point it towards your infant. Reducing the layers of clothes to onesies and socks is also recommended.
Interestingly, some parents believe that socks are unnecessary, while others vouch for their capacity to provide a sense of security and comfort for their infant. We'll let you make the call.
You could also boost ventilation by using light bedding and opening a window or door. It is possible to refrigerate formula for infants who are bottle-fed so that they remain comfortable. Keeping breast milk in the freezer/refrigerator correctly preserved is important for babies who are only feeding on breast milk.
What are the best wintertime temperature adjustments?
The same thermostat technique applies in the winter months, and the same range of 68 to 72 degrees is still the recommendation.
You can also add layers, but do so with care. Avoid hats when they're inside because it affects their ability to self-regulate temperature.
What bedding choices work best?
When it's cold outside, use the same 68-72-degree thermostat setting as you do when it's warm.
Layers can also be added, but do so carefully. The capacity to self-regulate temperature is hampered by wearing a hat when indoors, so keep that in mind.
The best option is generally to keep things simple and light. Duvets and quilts should be avoided until your child is old enough to sleep on a toddler bed. When at all feasible, we suggest going for organic-fabric bedding that is both light and breathable.
It is best to wait until the age of two or three before introducing blankets, duvets, and comforters. When feasible, we recommend a light, airy, organic fitted sheet.
Wrapping up
It's hard enough to get your baby to sleep at night without having to keep an eye out for their body temperature. Following our basic tenets will increase your chances of having a comfortable baby because a newborn's temperature preferences are quite similar to our own.
Sleep Advisor
We have a wide range of experience, but none of us started out here as a so-called sleep specialist. What we have in common is a desire to ask questions (many of them), seek specialists, and dive deep into conventional thought to discover whether there could be a better road to health. As a result of our research, we are able to better serve our 12.7 million monthly readers as well as our own workplace culture.
The field of sleep research is always evolving, and we are fully committed to staying on top of the latest developments and advancements. A better night's sleep is essential to a happier and healthier life. We hope that whatever brought you to our site, you have a successful journey ahead of you toward better sleep.
Raina Cordell R.N./R.H.N.
Certified Health Coach, Registered Nurse, and Registered Holistic Nutritionist
She has worked in pediatrics, neonatal critical care and cancer care as a nurse. As a Registered Holistic Nutritionist and Certified Health Coach, her greatest passion in life is helping people live well through her website, www.holfamily.com
With an emphasis on the physical, emotional, and spiritual well-being of the individual, she adopts an integrated and holistic approach. When it comes to being healthy, Raina thinks that the mind, body, and spirit must all work together.