I think we can all agree that picking the appropriate mattress is not an easy undertaking.
The first step is to get rid of your old bed and then go through a lengthy process of picking a new one that will last you for many years.
In addition, having a dozen alternatives and manufacturers, as well as a handful of varieties and materials, isn't of much assistance at all.
You're in luck since you can learn all you need to know about selecting a new mattress, including the most critical factor to take into account.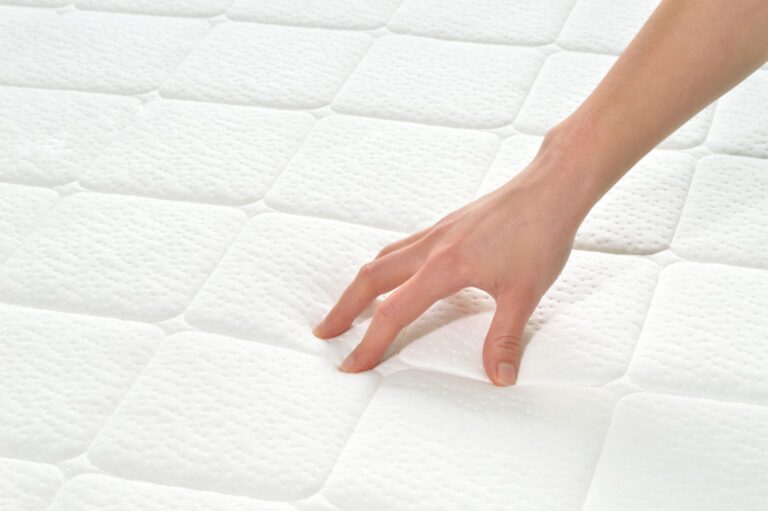 Step 1: Do You Really Need a New Mattress?
Changing your bed after only a few years is totally acceptable if you have the financial means to do so. Given that it is not a minor expenditure, it is important to consider whether or not you actually require a new one.
The average life expectancy of a mattress is seven to eight years. However, quality and material do play a role in the outcome (we will cover the types and materials later in this article). In addition, if you are experiencing back or neck discomfort, your bedding is a fantastic place to start.
Step 2: Determine your Budget
Nobody has the money to just stroll into a store and buy anything that costs a few thousand dollars. Fortunately, there are a variety of online alternatives ranging from $500 to $1200 that you could select from. You may save even more money if you take advantage of bed discounts on Black Friday and Cyber Monday.
Avoid confusion here. Better quality does not always come with a higher price tag. Those who believe that shopping online is inferior to visiting a physical store are in for a surprise. Prices can be inflated by as much as 1,000% at retail establishments, according to industry experts.
Here are a few pointers to get you started:
Do not always choose the cheapest choice – This is often the case for most things you purchase online. It's not worth it to spend less than $500 on a queen mattress since it will be less durable, contain more pollutants, and have a negative impact on your quality of sleep.
Even though you've heard this before, it bears repeating: a higher price does not imply higher quality.
The best value for a queen-sized bed is often found in the $1,000 price range.
It will cost you a little more for a King or California King, but you'll have a wider range of options in that price range.
Assuming you've decided on a new spending limit, you're probably wondering, "What kind of mattress is ideal for me?" Let's get down to business.
Step 3: Choose Your Ideal Type and Material
In the end, most individuals will go with their own preferences more than anything. You can't trust someone's word for it unless you check out other people's experiences with it and test it yourself.
Want to learn more? Check out our comprehensive guide on mattress varieties.
This is a list of the most popular choices available today:
Innerspring (Coils)
Despite its long history, classic innerspring mattresses have recently earned a poor name. Even if the conventional method has lost its appeal, it is crucial to grasp the advantages and drawbacks of this choice.
If you're looking for a budget bed, springs are a good place to start because they're less in demand and because there are so many different alternatives that might be more comfortable and beneficial for your health.
It's also worth noting that these mattresses have a reputation for lasting for decades. The longevity of a spring mattress is unmatched. They tend to retain their form since springs are often constructed of various metals.
Because they are the most traditional, they are also the most recognized. When purchasing a mattress with springs, buyers know exactly what they're receiving. With this choice, there is no guesswork as there may be with memory foam or other modern selections.
The last advantage of this type of bed is that it provides for the greatest amount of air circulation due to the amount of space between the springs. There is a cooling effect on the environment as a whole because of this movement.
Ideal for: Those looking for a high-quality, long-lasting, breathable, and bouncy option. Aside from that, the edge support is superb.
Latex
These mattresses are well-known for providing exceptional cooling and comfort. The spring and responsiveness of latex are both excellent.
The white liquid produced from the Hevea-Brasilenis tree is used to make authentic latex foam. It is possible to collect latex and remove the surplus water to provide raw material which could be used in a variety of goods, including bedding systems.
As an added benefit, there are no off-gassing issues or unpleasant odors to contend with, as is the case with memory foam.
There are two options available:
Natural – A better choice in terms of health and the environment. If you're looking for a high-quality natural latex mattress, expect to invest roughly $2000.
Synthetic- A mixture of synthetic polymers and natural tree sap is used to create this product, which is then dried and packaged. Of yes, they're less costly, but they're also less beneficial.
Latex is the material of choice for those looking for excellent cooling, responsiveness, and bounce.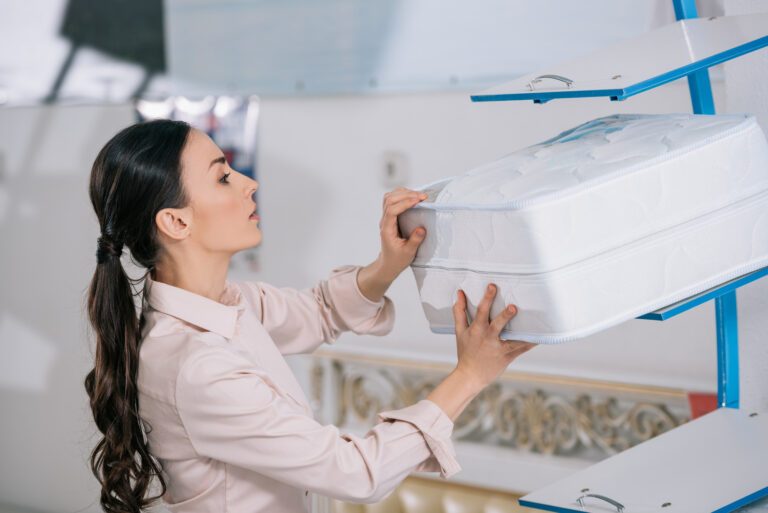 Memory Foam
It was created in the 1970s by NASA to safeguard pilots and passengers in the event of a plane accident by using memory foam in seat cushions. Every mattress producer now uses this material, which has grown tremendously since then.
Why has it been so widely used? The reason for this is that it is supposed to be extremely comfortable and supportive for the entire body. You can see the lure of this material the moment you touch it.
Every part of your body sinks into memory foam in a unique way. Simply, the material returns to its original shape when you remove your body from it, making it suitable for all body types and sleepers.
In addition, memory foam is known for its ability to isolate motion. Ads for mattresses featuring a woman leaping on them and a bottle of wine at the other end have been around for a while now; It's a miracle that no wine spills.
The wine doesn't spill because the mattress doesn't absorb the energy from jumping. For couples, this means greater sleep because one person's fidgeting and wriggling don't impact the other, a characteristic that's not present in any other mattress on the market.
People frequently complain about the material's tendency to retain heat. Memory foam mattresses may not be the ideal option if you need a chilly night's sleep. New and better techniques to keep the heat down are being developed by manufacturers, but the results are still up in the air.
Ideal for: Those who desire a well-contoured, shaped form, as well as pressure reduction and comfort.
Hybrid
In a hybrid mattress, regular springs and memory foam are combined in an innovative way. For those looking for a mattress that provides both comfort and support, this mattress is a good choice.
The word "hybrid" is used too loosely to represent the mixture that we just discussed. But the density of this bed's foam varies greatly depending on your preference for hardness. In certain cases, the amount of foam used is less than 1.5 inches, making them more like conventional spring beds than the more contemporary memory foam models.
To get the greatest hybrid mattress, look for one with at least 3 inches of foam. Anything more than that, and you may as well abandon the springs altogether.
Among these beds' disadvantages is that they are among the priciest ones available. There is a big financial outlay involved in purchasing one, but the return on your investment might be substantial over the long run.
Those looking for the greatest all-around product with excellent support, bounce, cooling, and pressure relief should choose this product.
Adjustable
These beds have a unique feature that allows you to adjust the position in which you sleep. Traditional offerings don't provide you with as many possibilities as this one. People who have severe back problems or just prefer a slightly higher sleeping position due to snoring may appreciate the added comfort these beds give. Despite this, they're often regarded as unsightly.
People with medical issues like snoring, senior sleepers, and those with lower back discomfort are all good candidates for this mattress.
Pillow-Top
Coil, latex, or memory foam beds with a soft layer sewed into the cover are the most common, but there are a variety of other options as well. As a result, they tend to be more expensive than normal choices.
Beneficial to those desiring additional comfort and plushness.
Waterbed
Back pain and arthritis are two of the most prevalent reasons people seek out this form of treatment. Allergy sufferers would also find these beds to be ideal.
If you have back discomfort, arthritis, or allergies, this is a good option for you.
Step 4: Determine Your Ideal Sleeping Position and Firmness
Generally speaking, every one of us sleeps in a different way each night. No matter how many times you change positions during the night and no matter how many times you sleep on your side or stomach, you will need to consider and pick the best sort of bed for you. Think about your preferred sleeping position to decide the optimal firmness of your new mattress.
Back
For back sleepers, firmness and support are of the utmost importance. Back discomfort might result from a mattress that is overly soft. You'll need a cushion that's soft enough to alleviate pressure but strong enough to keep your spine in place. On a scale of one to ten, the ideal range is between five and seven.
According to the Better Sleep Council, only around 15% of individuals sleep on their backs. Because you are one of a kind, you'll need a one-of-a-kind mattress to get the rest you need.
Memory foam mattresses are often considered to be the most comfortable for back sleepers. This is due to the fact that it offers the necessary support and structure to the spine while preserving a long-term shape and contour.
Side
The hip joints and shoulders of many folks who sleep on their sides are subject to stiffness and agony. Unsuitable bedding is generally the blame.
In order to provide an even distribution of pressure while sleeping on your side, it's recommended that you choose a somewhat softer mattress than a back sleeper.
As a general rule of thumb, you should be looking for a mattress that is anywhere between 3 and 6 out of 10 in terms of firmness.
Stomach
The worst position to sleep in is this one. For stomach sleepers, the most crucial thing is to distribute your weight evenly over your entire body, as your torso will be the one applying the most pressure. Having a mattress that is overly soft might cause back discomfort since it does not provide enough support for your spine.
A medium to medium-firm mattress should be in the 5-7 firmness range. Most of the selections fall within this range, which is a plus.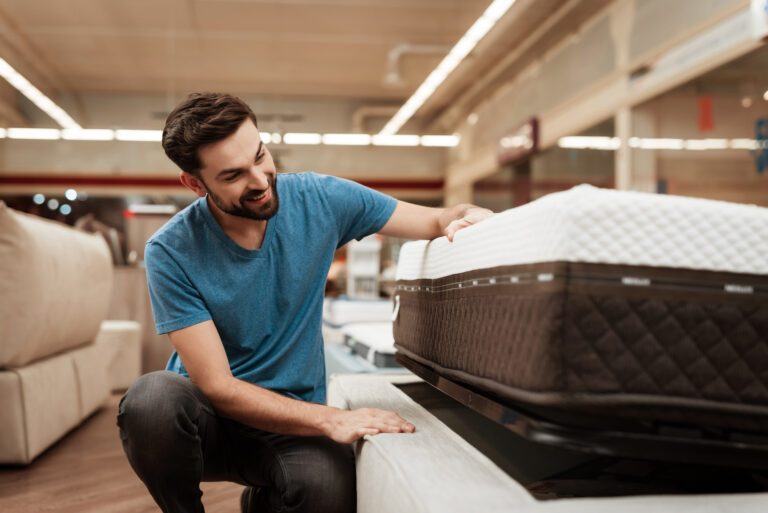 Step 5: Consider Your Weight and Built
It's possible that you're wondering: What's the connection between weight and mattress selection?
To put it simply, what works for one person may not work for another based on their body shape and weight. It's also a sad fact that there is no "best" mattress for every person on the market.
Here are some pointers to help you determine the right amount of firmness for your weight:
If you weigh less than 150 pounds, you should look for a medium-firm bed with a firmness of 5-6. Since most beds are rated for an average sleeper of 180 pounds, if you weigh less than 150 pounds, you can even sleep with four.
In the 3-4 firmness range, you may choose a softer feel or if you sleep on your side. Soft and cuddly alternatives are available.
With a weight range of 150-200 pounds, you may use the industry norm of 5-7 rating mattresses to provide the most support and comfort.
If you sleep on your side, you could go for a softer mattress, but if you like a firmer bed, stick to the 3-5 range.
A person who weighs more than 200 pounds may have more pressure points in their back, so it's best to go for a firmer mattress to compensate for the additional sinkage. There are coil mattresses that can help with cooling if that is an issue for you.
Choose a bed at least 12″ thick if possible. This will provide you with a lot of cushion and comfort.
Summary
These five stages will help you choose a mattress for you or your family if you haven't already read the above.
Is it time for a new mattress? – In our opinion, if your existing bed is more than eight years old, it's time to get a new one. If you're having difficulties falling or staying asleep, or if you're bothered by neck or back pain, we recommend doing some research.
How much money do you have available? – Make sure you don't settle for the lowest choice you can come across. A normal queen-size bed should cost between $700 and $1200. When purchasing for your child or adolescent, the cost will be significantly less. Consider spending at least $400. There is a dramatic decline in the level of quality.
What type and material are you looking for? – This is by far the trickiest problem. However, memory foam sleeps hot since it has a lot of shape and embrace. There is a lot of bounce and cooling with traditional coil ones, but they tend to last longer. Foam or hybrid is what we recommend to the majority of our clients, with the exception of bigger individuals, who should stick with innerspring.
Do you like to sleep on your back, side, or stomach? – How much stiffness you prefer is based on this information. There are a variety of firmness levels to choose from for back, side, and stomach sleepers, so it's important to know what your preferred sleeping position is before making your purchase.
What's your height and weight? – For the same level of comfort as a person of average weight (180 pounds), people who weigh less than 150 pounds need a mattress that is 1-2 points softer. In contrast, a bigger mattress and additional support are required if you are a larger individual.